Technik, die Zukunft, Literatur und Filme – diese Themen vereint das neue und vierte Studioalbum "Give Me The Future" von Bastille. Ein musikalischer Ausflug, der uns in eine faszinierende Welt – oder eher in ein faszinierendes Paralleluniversum bringt. Unsere Redakteurin Pia hat mit Sänger Dan Smith über die Vorteile und Schattenseiten der modernen Technik, den Verlust eines geliebten Menschen und Pläne für das Jahr 2022 gesprochen.
Frontstage Magazine: Hey Dan, thanks for your time! First of all, how excited are you about the release of Give Me The Future, there are just two more days left!

Dan Smith: Hi Pia, nice to meet you! I'm so excited. You know, we've worked on this album for the last couple of years and for us, it's been a really helpful distraction. The songs are all about things that I'm really interested in and how bizarre modern life is. You know how much we all think about the future and what that might look like, good or bad. It's all about like, being a human in this time where technology is so stitched into everything that we do. It's also just about trying to get out of our own heads and live our life.
Frontstage Magazine: And that's kind of insane at these times!
Dan Smith: Yeah, exactly. And, you know, we started it before the pandemic, obviously made it through throughout the whole first few lockdowns. So, it was a really nice excuse to collaborate with lots of people in quite an isolated time. And, yeah, I mean, we're so excited for it to finally release it. It's our fourth album and it's like our own science fiction film. It's been the thing that kept us busy for the last recent times. So it's time to get it finally out.
Frontstage Magazine: I believe that! Now you already mentioned a few points I want to talk about. But first, the future is a good point to start talking about: What's the deeper meaning behind the album title "Give Me The Future"?
Dan Smith: I think it was trying to come up with a statement that felt like positive, proactive and excited. I think there's definitely something in the last couple of years, we've all been locked inside, there's been this kind of like speculation of what the future might look like, you know, we're constantly telling ourselves like, maybe it's over. Now, this is maybe the next phase is about to begin. But also, we see the future every day in the news, like the effects of climate change or something like that. The future can seem pretty bleak sometimes. So that's kind of scary. But at the same time, there are people out there like activists and scientists who are working night and day to try and make sure that the future that we all have is a slightly more positive than what's on the cards at the moment. So I guess, also, it's about science fiction, which is the whole genre about imagining different versions of the future that might exist. So it's kind of a big mix of all of that stuff.
Frontstage Magazine: I think it's quite interesting how you are looking into the future. Are you more curious or also a little bit afraid?
Dan Smith: I guess it seems pretty bleak, doesn't it from the science that's out there and we seem to live in a color complicated world, and a series of kind of societies that just don't really want to acknowledge that things are going away, they're going. So that's kind of scary. But I guess the more you sort of look at it and read, read into it, as you grow older, you like come to realize your complete insignificance in the long, long history of not only like humanity, but humanity's place on earth. And in the universal kind of stuff, you know, these are all such ridiculously big topics. I think, sometimes your thoughts can wander there and it's really confusing and it's hard to know what to do. And then you watch an amazing native documentary, or a history documentary and you're like, Oh, my God, we're nothing. And then you're like, oh, but I've got to eat lunch and go hang out with my friends or like, go to work, you know. So it's this weird push and pull between your like micro and everyday life that you really care about. Then there's kind of these topics that are so much bigger than we can even comprehend, you also care about, but it's just hard to sometimes you have those moments where it's weird trying to juggle both of those ways of thinking. I like to think it's nice to be optimistic about the future. But we just don't know, do we? And you know, for every person out there that's being amazing and doing doing incredible kind of positive, unifying things, there are also people out there who like, those seem to give a fuck about anything apart from making money. So that's kind of weird. But, you know, that's just the way of the world, isn't it?

Frontstage Magazine: Thank you for that interesting and detailed answer! According to that, I want to know what's on your bucket list for the year 2022?
Dan Smith: If it's possible I'd love to go traveling. I've really missed traveling a lot. I love going backpacking with my friends, it would be really nice to visit a few new countries, I want to go to Antarctica, I really want to go to South America or go back to South Korea, and I'd love to go to Vietnam. And loads of sort of countries in Africa as well. There's so much to see! I'm very lucky to get to make music with a lot of my time, it's my favorite thing to do. So, you know, hopefully keep making songs, keep making albums. I love writing for other people as well, that's really fun, because you get to be useful and helpful to them. Hopefully I get to do loads more of that this year.
Frontstage Magazine: So tell me, what's the difference between writing songs for yourself and writing songs for other musicians?
Dan Smith: Good question. I mean, there's definitely lots of things that are very similar. But when it's for me, it's just what's going on in my head and it's the thing I get on with quite instinctively without thinking. Sometimes the songs take a really long time, because I'll be really particular about what I want them to be and rewrite lyrics and change how they sound and tweak the melodies. I think when you're writing for someone else, you go in, and you're there. They're kind of like, as a friend, and someone with different ideas to just contribute. There's less pressure on you. Personally, I think I get to enjoy it in a whole different way. Because sometimes you go in and you just write for the day, and then you leave and it's done. And that is so different to when we're making an album and you live in it for like, sometimes years. So yeah, the two ways are really different things, but they're obviously very similar at the same time.
Frontstage Magazine: I can imagine! So let's jump back to your upcoming album. I wondered if there was a concept before you started writing the songs or did the concept come up with writing the songs?
Dan Smith: Kind of both. I had this idea of making an album without dreaming and escapism and the endless possibilities of going inside your head. So we started writing loads of songs, with that in mind, and some of them became about kind of escapism via technology, and the incredible, you know, opportunities there are to sort of like jump into the world of a video game or lose yourself in a book or a film or pagination, I guess. We'd made so much music, we kind of like sliced it in half, and took the songs that were much more futuristic leaning, and science fiction oriented and decided to make that into an album. And so the theme kind of like, formed itself almost. It's been really fun to make and it was really, really collaborative as well. You know, we made it in lockdowns, but also a lot of time working with people over zoom and sometimes in real life and sometimes, like Woody set up a drum shack at home, Kyle made a little studio in his bedroom, with duvet hanging around so he could send vocals in and I would cycle to our studio and work away on stuff by myself. Then there were times when the lockdowns lifted, and we'd all go in the studio and do as much as we could. So yeah, it's been an interesting process of making an album. Technology using technology.
Frontstage Magazine: Kind of an adventure with all the new conditions. So what would you say, besides these pandemic, or the conditions, what's the main difference in comparison to your last three albums?
Dan Smith: Well, it was really collaborative. Normally, I write everything, and I co produce everything with the crew, and work on the music with the other guys in the band. But this time around, we thought, let's have a fresh start. Let's mix things up a bit. Let's, let's invite lots of other people into our process. So you know, we worked with other writers that I admire, like Rami Yacoub, pianist and Swedish writer based in Atlanta. We wrote a song with Ryan Tedder as well, and a bunch of other writers and producers. We wanted to album to be big and collaborative. And, you know, there's a song by Riz Ahmed, who's an amazing actor and rapper, who we're huge fans of. I sent him the album, and he listened to it and he wrote this poem and sent it back and it was exactly what we wanted. He really captured like, the intimacy of the humanity of what we were trying to create in amongst all the kind of like tech that exists around us.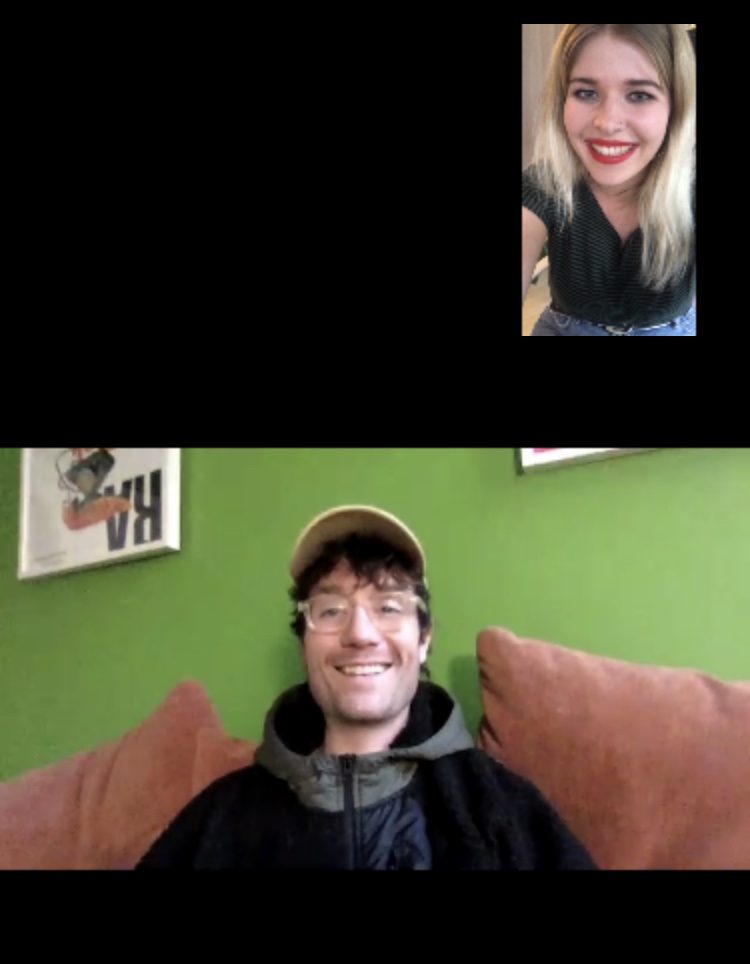 Frontstage Magazine: You already mentioned that some books and movies inspired you? For example the story of Thelma and Louise, Huxley's Island, Back to the future and some more. Just for me to get it right, you watch the movies, read the books, and then you got inspired for the lyrics, or did you start writing first and then those connections came into your mind?
Dan Smith: I think it's just a lot of the time we're just kind of twisting titles to exist to make puns and it's like wordplay isn't it? I definitely did watch or I watched all of those things, I read all of them I have done in the past. Then I rewatched them I reread a lot and it was fun to kind of immerse ourselves in the world of science fiction. Then I just thought, as I was writing all the words, it's just nice to sort of interweave a lot of those titles in because I think they sort of when you're listening to the songs, they kind of take your mind somewhere familiar, and somewhere different.
Frontstage Magazine: That's kind of a cool inspiration. So now let's take a closer look at the song No Bad Days. There's one line, you sing: you'll have no more bad days when you're gone. For me, it seems like you're singing about the topic of death in a very positive way. Could you please explain how the exact meaning is?
Dan Smith: So No Bad Days, I wrote about my aunt. She lived in Australia, and she had terminal cancer. Me and my sister went to go and see her before she died and say goodbye. But the state in Australia that she lived in, Victoria, had legalized, assisted dying. And she was one of the first people in Australia to choose assisted dying, which is very sick. So she had, you know, she was living through a disease that had taken away all of her and so you know, how choosing assisted dying was a way to take the power back in her life. She was amazing, she was a psychologist, and she knew that she was gonna die. And she really generously helped all of her family through this thing but I just have such a massive respect for her. I'm so in awe of her bravery and what she chose to do. And yeah, so I've been on that trip to Australia, just for a few days to see her with my sister and I'd come back to the UK and was writing songs in the studio with some friends and that No Bad Days just kind of popped out. I didn't really think about it, or what it was saying or what it was, but it was just kind of, in response to that event in my life and in my family's life. So it is about someone in painand what it is to let go and not really have a future but still be a hugely important part of so many people's lives. When, like Ryan, Tedder, we sent him a bunch of the songs from the album, and he listened to them, and he loved it. His interpretation on it was more like, he took it to mean in terms of like the pandemic and just kind of optimism of looking beyond it. To me, that's not what it's about but I guess the whole point of songs is, you know, what you're writing. But once you've written it, and once you've released it, it's for other people to interpret and to take on in their own. Yeah, but that's that's kind of that's what the song is to me. And that's what I was thinking about when I wrote it. And then when I made the video for this home, I wanted to kind of add a whole new dimension to it.

Frontstage Magazine: I watched it. It's very, very touching, but extremely impressive as well!
Dan Smith: Thanks so much, it was really fun to make but it was hard work.

Frontstage Magazine: Yes you can see that you put so much effort into it, especially regarding the fact that it was the first time you worked as a co-director for your own music video.So how do you felt, when you saw the result for the first time?

Dan Smith: Well, because I was involved in every single step of the process, I'm really happy with where I ended up. But it takes a while to get there, you know, there's preparing for the shoot, the shoot was really stressful, then there's the editing, then we have to do the visual effects. And then we have to do the grading and the coloring and all that stuff. I love the final result but there were certain points along the way where I was looking at it thinking like, fuck is this good? I don't know if this is good. But sometimes the producer Vanessa, who we worked with, she kept telling me just like, have faith in the process, trust the process, which is kind of it's easier said than done. Like, if you're me and you've not done that before being told to trust in a process that you don't know. I was like, What are you talking about? That doesn't make any sense. But she was right, you know, like it came together. And I think it tells the story that I wanted it to tell, I think the idea of trying to bring someone back with all the technological fragments that we have of them in videos and photos, and you know, all the things that can make grief even more confusing. And that's sort of what inspired it. And I hope hopefully that story comes across.

Frontstage Magazine: I really, really like it and I was very fascinated and touched.It's how you already mentioned, it's kind of futuristic, and it's catchy. So, you already mentioned it and the album points out as well that the modern technique fascinates you a lot! Could you ever imagine to invent a technology or technical device by yourself?

Dan Smith: (laughs) Oh no! I'm not a mathematician. I'm not a scientist and I'm definitely not an inventor. The only thing I can invent is songs. What would you invent?
Frontstage Magazine: I couldn't invent something either because I'm not into technique at all. I'm more into languages. And I'll do better with with words and something like that. Yeah, I like words. I like pictures and music. I think the thing with technology is it's interesting when it makes things easier to achieve, but sometimes I think it's kind of scary as well, kind of terrifying.
Dan Smith: And that's the point. Like, all within this album, it's not saying like, tech is good, or tech is bad. It's saying it's complicated, and in some ways, it can be amazing. It can bring people together and allow you to do things you've maybe physically can't do but equally it can be really divisive, can be isolating and it can be addictive. You know, like everything in life. There's no good and bad. It's kind of, it's always somewhere in the middle.
Frontstage Magazine: Exactly! I'd love to continue chatting with you but I think our time is up. So thank you again for your time and your great answers!
Dan Smith: My pleasure! Thank you and have a nice day!
Tracklist von GIVE ME THE FUTURE
Distorted Light Beam
Thelma + Louise
No Bad Days
Brave New World (Interlude)
Back To The Future
Plug In…
Promises (by Riz Ahmed)
Shut Off The Lights
Stay Awake?
Give Me The Future
Club 57
Total Dissociation (Interlude)
Future Holds (feat. BIM)