"Rebel Songs" so lautet der Titel des neuen und dritten Solo-Albums von Boysetsfire-Sänger Nathan Gray. 12 Energiegeladene Songs sind drauf, die politische Themen und persönliche Erfahrungen auf den Tisch bringen. Unsere Redakteurin Pia hat sich virtuell mit Nathan getroffen und über seinen möglichen Einstieg in die Politik, Nathans Zusammenarbeit mit anderen Musikern und die Inhalte auf dem neuen Album geschnackt.
Frontstage Magazine: Hi Nathan, nice to meet you!
Nathan Gray: Hello. Nice to meet you too!

Frontstage Magazine: Since friday your new album "Rebel Songs" ist out. First question that came into my mind: What exactly is a rebel song? Please explain that term a little bit.

Nathan Gray: I would say that a true rebel song encapsulates more than just being rebellious. It's more than being angry. It's more than politics. It's about providing an actual alternative to the hate and the darkness that we see in this world. And that's what revolution and rebellion is really about. It's about rebelling against the politics of hate. It's about rebelling against being used against one another, to create more bigotry and hate in this world, to put money into the media put money into politicians pockets. It's about learning to love each other and to use kindness in all of our actions.
Frontstage Magazine: And would you say all 12 songs on the new album are rebel songs or are there any exceptions?
Nathan Gray: I think they could be categorized as that. Political commentary without falling into just being angry about something, but providing the joy of something else, something new to the commentary, that gives people inspiration to change what they see in the world around.

Frontstage Magazine: You already talked a bit about my next point. You combined politics and your personal feelings on the album. Please tell me a little bit more about that!
Nathan Gray: Well, I think that the political is for example: there are people who are underprivileged in this world. People who have different skin color than we do, people who are refugees, people who are targeted by hate groups. They don't have an opportunity to see politics as just politics. It's very personal, until people that look like me start realizing the privilege. Politics has to change that.
Frontstage Magazine: I also read that you said, the dividing of our society breaks your heart. What do you think, can we all do to do not let that happen, or make it happen less?
Nathan Gray: To provide an alternative, go out there and say: Hey, you're dumb, stop thinking that way. Because that's what we've been doing in a lot of ways. And that's not gonna work, because it's easy. We need to use this term. And what I mean by that is, there are some people that are honestly lost. What we can do, though, is go after the people that they are targeting. People who are spreading a message of hate, and division, they target people with broken hearts. So instead, we could go to the source of the problem. So we need to provide the alternative, we need to provide the joy, the happiness, that healing from the brokenness inside all of us, in order to make a real change in the political.
Frontstage Magazine: I think your songs exactly point that out, because they are kind of encouraging. Another special thing on "Rebel Songs" is that you collaborated with other musicians as well. Tell me how this work came together?
Nathan Gray: I just wanted to do that and have other people with different perspectives included. It made sense for me.
With look alive, I wanted my friend Phil who gets under Eugenius. He also plays guitar and my band, my backup band. I wanted him to come in and show what he does with hip hop, you know, and do that. And then lots of Rosie and million
because he has a very feel he does and that song has a very Americana Folk feel to it. So it made sense to collaborate with people who knew sort of the inspirations behind the music.
Frontstage Magazine: So you know, both ways. Playing music in a band or with other musicians and you're used to make music on your own as well. What do you think is the main difference and which kind of making music you prefer?
Nathan Gray: I like being a solo artist. It's been important for me to go solo, because I want to put out the music that I want to put out, the message I want to put out. And I think that's important. I think everyone should have that opportunity to not have to just go along with what everyone else is doing. And be just a small part.
Frontstage Magazine: Okay that's true it's important! Let's take a look at the title track "Rebel Songs". There you sing: "music is not a product to sell, it's a reason to believe, it's a movement to save yourself. First of all I really like it!. But now I want to know in which way music saves you?
Nathan Gray: Well, number one, that's probably one of my favorite lyrics from the whole album! That statement isn't
necessarily, but it's an important thing for people to hear. Because I think that a lot of times we get lost in that. Look at music as nourishment.
Frontstage Magazine: I know what you mean, it's for the soul. Yeah, for soul and body and for everything.
Nathan Gray: And it's not just a product, it's something you buy, and you ingest and you move on with your life. Music is something more than that. It's something that we take in that we put our own feelings. We subscribe our own feelings and belief systems to it, it helps us grow as human beings. So what music has done for me is I think what it's done for many people in that I get this analogy a lot. But I think we've all been in that situation where we were at our lowest point and someone wrote a song. We didn't know that they didn't know us. But we needed them the most minutes a stranger saved our lives. And that's beautiful. That is what music is about. It's about strangers, dating each other. And showing that connectivity that we all have, and the commonalities we all have in our darkest moments.
Frontstage Magazine: Yes, that's true. I agree absolutely with everything you said!
Another question regarding to your political engagement: have you ever thought about going more into politics?
Nathan Gray: Yes, but then about the skeletons in my closet (laughs).
Frontstage Magazine: I have them as well. But I think it works well, when you put the politics into your music!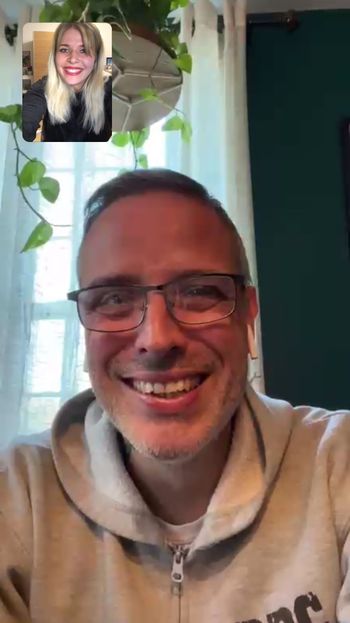 Frontstage Magazine: And now I want to talk about your album cover showing you raising your fists up in the air. It's a very strong picture! Please tell me a little bit more about it and the intention behind it.
Nathan Gray: We went through a lot of pictures and I hated everything. Until this picture came up. I believe it's true, it's a true picture. Yeah. purposeful, you know, It wasn't a consensus. At first. Once I explained the depth to the label and everything, it's like, no, I need a live picture of me on it, because that's when I'm in my moment.

Frontstage Magazine: I think it's a great choice! A less great thing is, unfortunately, your European tour got cancelled again. That sucks!
Nathan Gray: It really sucks. Yeah. It is what it is.
But I did decide, instead of kicking the can down the road, and just turning people into their tickets and to just completely canceling it. It's too much for everyone. Get their hopes up and be like, Oh, this time it's gonna work? Yes. Then another time.
it does fall on me, I need to make that decision. Because I can't have people losing their trust. So I need to be respectful and say, Look, for now. Let's just call it. Take it and get your money back. We'll get back to this. I think that's a
good solution for now. We need to get people to realize how important it is to get vaccinated. But seriously, please think outside hearing, you know, all this stuff in the media, all this stuff on social media. Forget about that for one second. Think about the people you respect around you, people you love around you who are counting on you right now, to do this ban, who cannot talk right now, because of this. It is ruining us at the moment. I've had to do so much to try and not let my family go broke. It's difficult. And until we all start taking this seriously, getting the vaccinations moving forward. It's not going to happen. And honestly, at the end of the day, very disrespectful to our fellow human beings to not take part in and to not try to help each other. That's my speech. I don't want to get to, you know
people to know how important it is to know how personal it is. It's insane.
Frontstage Magazine: And we already talked so much about these crazy times. And it's still not enough said..
Nathan Gray: The only thing that's gonna work is community and that we are all in this together. And if we're thinking about ourselves, crap that people that are feeding our fear online. We're never going to get through this. We've got to stop. We've got to take responsibility. We've got to start letting love, hope and compassion guide how we act!
Frontstage Magazine: Thank you for these beautiful words and esepcially important words! I think it's a good point to leave it with these words and say thank you for an amazing interview!
Nathan Gray: Thank you so much!
Fotocredit: Becky Fontaine